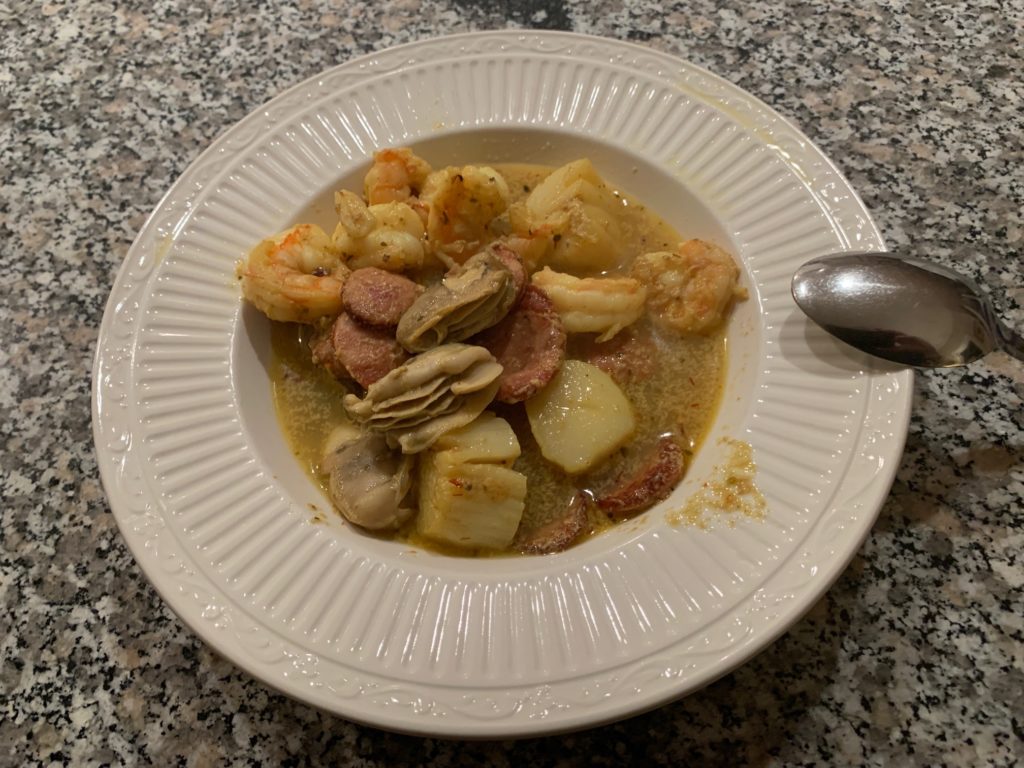 Since I cook to match the dietary needs of my guests, this is not your traditional cioppino (no tomatoes or vegetables). Let's get started on a delicious hearty stew!
If we're not at the beach, I head to Wegmans and pick through the available seafood. Since a step-son earns his way as a commercial fisherman, I steer away from farm raised seafood and go for wild caught! This most recent batch of Carolina Cioppino included oysters (wild caught from Virginia's Northern Neck), scollops, shrimp, and Cajun sausage. Depending availability, I'll also use clams, mussels, rockfish, tilefish, or flounder (I cut the fish info 2 oz. portions, adding with oysters and poach in the broth.).
Let's get started cooking! To a large pan I cover the bottom with olive oil, heating on medium to saute 2 ounces of minced garlic and 1/2 pound of Cajun Sausage (sliced into 1/4 inch rounds). Once the garlic browns, add a tablespoon of butter and a pound of deveined shrimp (we like Carolina green tail shrimp). As the shrimp turn red, stir in 2 cups of Pinot Grigio wine (we like Barboursville Vineyards Pinot Grigio) and add 1/2 pound of sea scallops. Add 1/2 gram of Saffron (I usually rub the Saffron in the palm of my hand to break it up a wee bit). Sprinkle in Old Bay to taste (this is a Carolina recipe). Add a pint of shucked oysters and their juice! This is also when I'd add fish or shellfish when available. Cover and simmer till the oysters plump.
Some like their Carolina Cioppino served over rice (rice takes about the same time to prepare as Carolina Cioppino), I enjoy mine without rice. On recent cold winter nights, a bowl becomes the perfect meal to end the day! We often have crusty French bread with butter or cheese. There should be a glass or two of Pinot Grigio left to enjoy with the Carolina Cioppino as well.
You're welcome to add tomatoes, vegetables, potatoes, and other ingredients your guests may like. I like to saute a couple ounces of chopped collard greens along with the garlic for a little twist. Experiment and have fun!
Share on Facebook