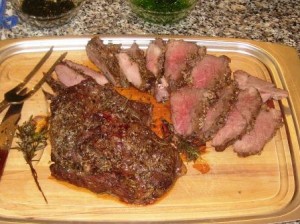 Several folks asked for the process and recipe for preparing this years Easter Lamb at Kamp Karen (our home between Zion Crossroads & Gordonsville, Virginia), so here goes!
Starting with a boned leg of lamb,  I rubbed smoked salt, fresh ground block pepper, chopped garlic, Greek herbs and macadamia nut oil into all the exposed surfaces of the lamb.  Then I placed the lamb in a plastic bag, added a splash of Glenmorangie Highland Single Malt Scotch, forced the air out and sealed the bag.  After marinating overnight, it was time for the smoker.
Last week I trimmed an old woody rosemary bush.  I saved big pieces of the stalk to use in the smoker.  For the lamb I put a few pieces of rosemary wood on the smoking pan and placed some fresh sprigs of rosemary on the rack for the lamb to rest on.
After the lamb cooled, I wrapped it in foil and stored in the refrigerator till Sunday morning.  They we let the lamb come to room temperature, added a splash of beer to keep the lamb moist and reheated in a 300* oven for one hour.  Then it was time to slice and serve!
Share on Facebook